Bios Line
Bios Line, Nature that Works
Interview with Paolo Tramonti, Director of Bios Line, a company that produces phytotherapeutic products for personal wellbeing.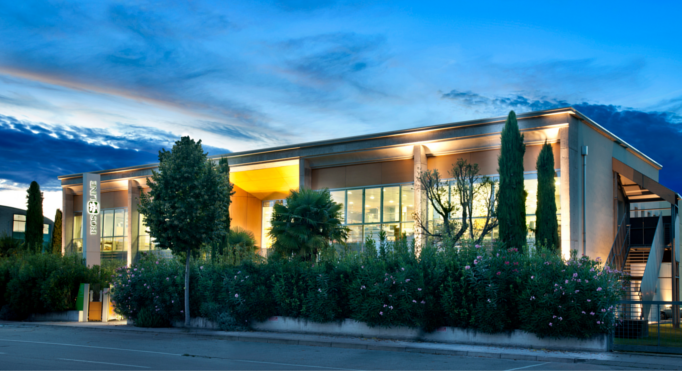 Please describe the identity, history and values that underpin your company.
Bios Line is an Italian company based in Padua, and has been operating for 30 years in the research, production and distribution of phytotherapeutic products for personal care and wellbeing. Natural phytotherapy and cosmetics are now a high popular and successful trend, but in 1986 when Bios Line first started up, the concept was still unknown and even considered suspect. From the very beginning, however, we were clear about our mission: helping people to take care of themselves in a natural, effective, safe and accessible way, which Bios Line expresses succinctly with the by-line: "Nature that Works."
Bios Line started by importing products from the United States, but it soon became clear that we could develop, formulate and produce our own phytotherapeutic products here in Italy. The curiosity for exploration, however, is part of the company's DNA, and that's why we seek out the most interesting botanical species from around the world and put our trust in only the most scrupulous suppliers - those who have a special regard for the environment and ethical sustainability. At the beginning of the 2000s, the Bios Line range was extended to include cosmetics with the creation of Nature's, a brand designed for facial and body care and beauty.
Naturalness combined with effectiveness is our guiding principle; we pursue attention to and respect for nature not only in the selection of ingredients for our products, but also in a broader sense that involves ethical commitment, concern for the environment, and the wellbeing of our employees.
What is the USP for your products/services and what are the reasons for their success?
All Bios Line products must respond to the objective of combining naturalness and effectiveness, and are developed with an approach that we call "phyto-OTC." This means that phytotherapy ingredients must be present in such a form and in the appropriate amount to constitute a real active dose. The present legal framework on claims has placed restrictions on the marketing of these products, which is why the advice of a pharmacist or herbalist who can explain the peculiarities of our products is essential. Consumers can then appreciate the difference in their effectiveness, and ensure their continued success by buying them again.
From the point of view of trade, our customers also appreciate our excellent service, our flexibility in responding to requirements, and the input we make by organising training sessions on phytotherapy and point-of-sale communications on natural products, including lots of information material in our stores.
What are your growth strategies, challenges and vision for the future?
At Bios Line we know we have a considerable contribution to make to people's wellbeing and quality of life; not in the sense of eliminating illness, but in improving the quality of life. That's why we will continue our research into other effective products and improve distribution to make them more readily available to consumers. And it's why we're focusing on two major strands for the growth of Bios Line in the coming years: international expansion, and the consolidation of existing channels, with particular attention on pharmacy, which is becoming the elective channel for phytotherapy and for which we have set up a network of young agents.
How far does the company consider innovation a strategy for growth?
Looking to the past to design the future: this is our basic philosophy. In spite of the strong inspiration we draw from herbalist traditions, innovation is vital for us. Sometimes innovation can create new market segments for us, but more often innovation is less visible and works within the existing markets, with the aim of offering new formulations and new combinations of active ingredients able respond to consumer demands quicker and more effectively. Process innovations can also make it possible to obtain natural active ingredients in the purest form for the body. However, innovation is crucial for us to stand out in a sector that leans towards homogenisation, mainly because of the rigid rules on eligible claims.
What does "business internationalisation" mean for you today? Exports, outsourcing, partnership, or a combination of these?
Becoming an international business for us does not necessarily mean relocating; the skills and productive quality of our Italian partners are excellent and we do not intend to sacrifice them for short-term savings on cost. Exports and partnerships are terms that do fall within our vocabulary, however; the first of these - increasing our overseas presence - is one of our goals; the second - partnerships with our distributors - is the way we do it.
What are your most important markets today? And what markets are you looking at with greater interest in the medium to long term?
We currently export to more than 35 countries, but the European market is where Bios Line has its greatest presence and continues to secure very strong growth rates, including France, which is definitely a tough market for Italian exports. There are several other European countries where Bios Line will be looking to increase its presence, but we are also looking outside Europe: some Arab countries are showing great interest in our products and lately we have also been to the US and Australia, and have been given a great welcome that indicates excellent development prospects.
What was the most important project or time for your company and for consolidating it?
One of the most important moments for us was the construction of our new headquarters, where we moved in the summer of 2004. It gave us the space to appoint new professional staff with relevant expertise, to consolidate our relationships with agents and customers and improve the quality of our service. Another remarkable moment was the recent acquisition of 14 hectares of land adjacent to our facility, where we are planning an extension with laboratories and spaces devoted to R&D and experimental cultivation of officinal plants; two major investments that demonstrate the extent of the faith we have in our project.
What does it mean for you to be part of the Elite Growth project?
In addition to possible future listing on the stock market, which is still a long way off in terms of our projects, and to the financial information we can gather, being part of this project is an important milestone in the company's "managerial" growth. People involved in many different business operations take part in the Elite Growth workshops in order to expand their knowledge. It's also an opportunity to network with other companies that are similar to Bios Line in terms of size and issues, and share ideas and practical suggestions. I congratulate the Borsa Italiana Team for both the idea and the quality of the speakers and topics they deal with, and I cannot conceal that the day of our presentation in Piazza Affari was a moment of pride and great excitement for me and the people who accompanied me, some of whom have been with the company from the very beginning.