TOKIC
Corporate Storytelling - Tokic Ltd, the Small Shop that Became the Biggest Car-Parts Supplier in Croatia
An interview with Ivan Gadze, CEO of Tokić Ltd, the leading supplier of car-parts in Croatia.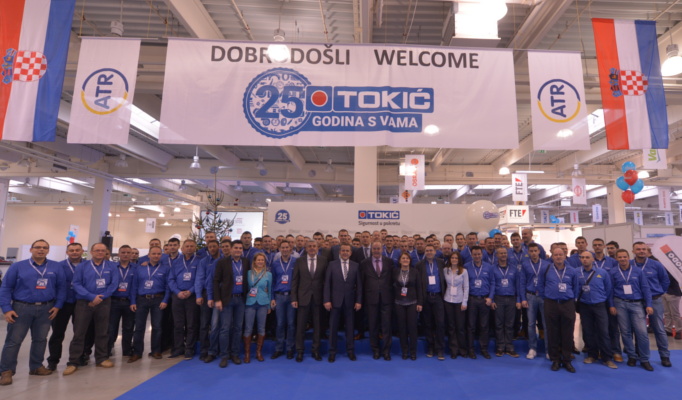 Please describe the identity, history and values that underpin your company.
Tokic Ltd is a family-owned company based in Croatia. We are market leaders in the wholesale and retail of automotive spare parts in Croatia and the Balkans. The business was founded by brothers Ilija and Stojan Tokic back in 1990, and the size of their first store was only about 35m². From the very beginning we have experienced constant growth, and we now serve our customers through more than 120 branches and franchise stores in Croatia and across the region. Since 2015, the company has been led by Ivan Gadze, President of the Management Board. At the moment, we are going through a division of owners' and management roles. Ivan's role is to establish best practice for corporate governance, alongside owners Ilija and Stojan. The business strategy is to internationalise the business model that has been so successful in Croatia. The most important thing is to preserve the values that made this company great. We do our best to deliver long-term customer satisfaction, offer a wide product range and guarantee product quality, employee expertise and most important of all – integrity and honesty.
What is the USP for your products/services and what are the reasons for their success?
We have always been highly focused on our service. The key to delivering a superior service is to have highly skilled, passionate, dedicated and loyal employees. To deliver long term, sustainable success we ensure our branches offer a wide range of products, have a well-planned stock and efficient logistics. Adventurous, smart investments in information technology have been a very important part of this route to success.
What are your growth strategies, challenges and vision for the future?
Because we have such a large share in the domestic market, we have also identified opportunities for growth in international activities. We started expanding 2 years ago, applying our business model in other EU countries. Our vision is to apply our model step by step in markets within our own region, providing our know-how and approach to first-line customers.
We see challenges in very fast changing environments like electric cars and self-drive technology, for example. However, any change is a fantastic opportunity.
How far does the company consider innovation a strategy for growth?
We strive to be innovative in two areas – product range and services. The range of products we offer has to follow trends in automotive technology. We do our best to offer our customers products for the latest cars as soon as they become available. We also do our best to offer customers new options as sets, for example, instead of single components.
We also strive to be innovative service providers. A few years ago we set up our own training centre for mechanics and employees, in conjunction with the German chamber of industry in Dortmund. The training centre was the first one to be set up in the region by this industry.
We were the first in the industry to establish a contact centre that works with customers through all communication channels, such as phone, email, social media, WhatsApp and others.
What does "business internationalisation" mean for you today? Exports, outsourcing, partnership, or a combination of these?
For us, business internationalisation means a combination of exports, outsourcing and partnership, with a special focus on partnerships through our franchise model. We want to expand the business model in which we have great faith into a region where we have strong local partners in the market. Combining our know-how with our partners' specific knowledge of the local market that we are targeting gives us an advantage and ensures success.
What are your most important markets today? And what markets are you looking at with greater interest in the medium to long term?
Our biggest market is Croatia. We are also developing the business in Slovenia, Austria and Italy, and will continue to add other markets in the medium term.
What does it mean for you to be part of the Elite Growth project?
Elite Growth raised the bar for us. We are aware that we're very good at what we do, but being a member of the Elite Club means we can learn a lot from other companies that are also very good at what they do. It's a great opportunity for our management team to work closely with the financial and investment community. Elite Growth has given our company a lot of credibility among people who weren't aware of what we do.
Through the programme we have raised certain questions internally. Much more attention is given to best practice in corporate governance. We talk to all our stakeholders on a more regular basis. Transparency is as acknowledged to be important. We behave more like an industry leader and work closer with FIGIEFA. We have also supported an initiative as founders of the Independent Aftermarket Association in South Eastern Europe.