PINKO
Pinko, Made in Italy Clothing in the Digital Era
Interview with Daniele Pini, Group CFO since 2010 at Pinko.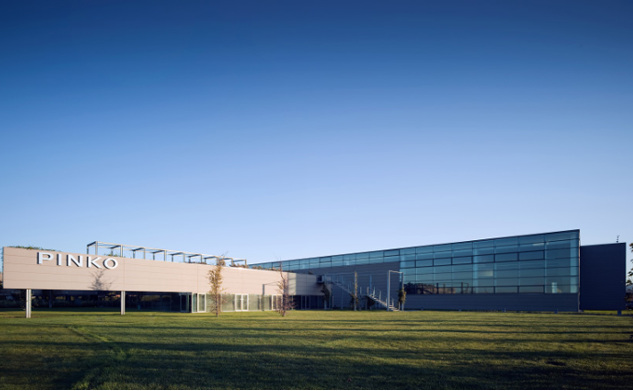 Please describe the identity, history and values that underpin your company.
PINKO is an independent Italian fashion brand with a high contemporary positioning, founded in the early 1980s by Pietro Negra and Cristina Rubini. Innovation, creativity and strong identity have always been the characteristics of the Brand, together with quality manufacturing. PINKO makes clothes for contemporary women who exploit their femininity to the fullest; intriguing women with strong personalities who love fashion.
In keeping with the spirit of the brand, our headquarters is a wonderful architectural project where technology and art blend with the natural landscape; a true "factory in the green" that expresses the values of quality of work and consideration for the human element.
What is your current offline distribution model?
PINKO's distribution network currently has over 200 mono-brand shops, mostly direct operating stores, and over 1000 premium multi-brand stores around the world. We have a presence within prestigious international department stores and on main luxury shopping streets in Milan, Paris, London, NY and Tokyo.
This year's turnover will exceed 200 million euros, more than 50% of this from abroad, with growing profitability.
What is the USP for your products and services and what are the reasons for their success?
To answer this question, I will paraphrase the words of our President: "Since we first set out, we have had a very clear vision - to shape the desires of contemporary women relating to their image, giving them the freedom to express every nuance of themselves completely."
I believe success comes from being passionate about the product that you handle every day in your company, from a clear strategic vision to the ability to translate it into results.
In addition, PINKO has always had great focus and remained open-minded about technological and organisational innovation, and is predisposed to continuous improvement at all levels.
The clothing industry is becoming more and more digital and more flexible. How can fashion houses take advantage of the possibilities that the new communication channels offer?
We are experiencing a historic era of change in various industries, including fashion, and in its sales channels, such as retail. Every day we read how e-commerce giants are operating in our industry, introducing physical distribution and deploying Big Data Analytics and cognitive computing processes that until a few years ago were completely alien to the fashion world.
Social networks have become the most influential media in the world and communication must therefore be oriented to these channels and digital touchpoints. Complexity has increased but at the same time it has opened up unexplored business opportunities.
Cognitive computing is also increasingly popular in fashion. How reliable is it in predicting new trends and reducing risks?
I remember a 2014 study which indicated that the best predictive models would misrepresent style trends almost 50% of the time. There is no doubt, however, that thanks to the continuous evolution of the technology and infrastructure, metrics are now becoming increasingly accurate even in fashion, and machine learning today provides increasingly accurate results in predicting short-term sales trends. Google has a "trendspotting" division and regularly publishes search-based "fashion trend reports". Amazon is working on algorithms that can learn style from images, on which basis they formulate creative proposals.
Tencent has a research team dedicated to artificial intelligence that is working to develop the ability to analyse fashion trends among young people; they have processed billions of photos on QQ - one of Tencent's social messaging applications - to identify the most popular colours, fabrics and other details.
I must say, however, that fortunately in our sector, creativity, with its "immaterial" value, still has a significant influence on the success of collections and the definition of new trends.
Artificial intelligence and machine-learning technology are considered essential solutions for fashion houses to succeed in a challenging market. How do you think this marriage between digital science experts and companies in the fashion industry will evolve in the coming years?
The potential for artificial intelligence in fashion is vast: just think of the interactions possible in one-to-one customer service, and also physically within stores and the ability to evolve CRM with direct marketing campaigns. Even more traditional processes such as buying and pricing definition can be greatly assisted by the use of algorithms of varying sophistication.
Over the last four years, investment in innovative European startups related to fashion-tech, ie digital technology at the service of the fashion industry, has almost quadrupled, and deep tech plays an increasingly important role.
You have hundreds of stores around the world and you also have a strong e-commerce presence. What differences are there between these two channels in terms of sales volume and customer requests? Do you expect your distribution model to change substantially in the future?
E-commerce is a complex and capital-intensive channel, but we have decided to get on board with it this year, as many other brands in this industry are doing. In order to properly manage manage a multichannel business, which places both the customer and the physical store at the centre, we think it is better to opt for direct control of the online channel.
So, whilst e-commerce currently represents just a few percentage points of our turnover, it is by far our most visited store. Phenomena such as ROPO (Research Online, Purchase Offline) are experiencing an evident and steady growth. It is therefore crucial to invest in the platform and on all branding levers, primarily shooting, web marketing and merchandising.
In general, I think online shopping does not collide with traditional, physical shopping. Instead, it encourages a new perception of the physical store, more emotional and experiential, more oriented to multichannel systems and to a dialogue with different digital touchpoints.
Do you currently use or are you thinking about using market place channels such as Amazon, Yoox, Zalando, etc? What impact do they have?
E-commerce platforms can be a major source of revenue, and they're still underestimated today by many brands in the industry, since they were originally developed to encourage end-of-season sales. Personally, I believe that concerns about positioning/brand-mix on these platforms will recede in the near future, and all brands, including the luxury ones, will have to establish relationships with the big e-commerce players who dominate not only traffic but also Big Data.
There are three big Groups that command a lot of attention and are a source of great inspiration for me: Amazon, JD.com (backed by Tencent) and Alibaba. Two of these three are Chinese and I don't think there's anything more to say about the Asian impact on the future of our business.